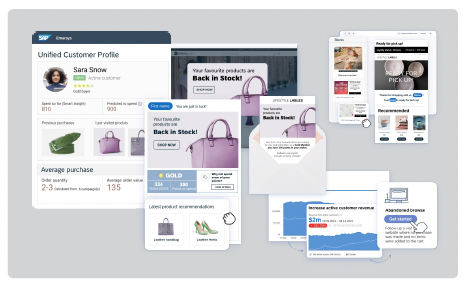 SAP and NEORIS have partnered to provide a comprehensive marketing solution that combines the strength of SAP EMARSYS Customer Engagement advanced marketing capabilities with NEORIS's expertise in digital transformation and consulting services. This collaboration offers businesses a powerful combination of cutting-edge technology and strategic guidance to enhance their marketing efforts and achieve tangible results.
By using their Personalization Engine, Marketing Automation, Intelligence & Analytics, Strategies & Tactics and Omnichannel Integration capabilities, Emarsys empower the marketers around the world to truly personalized omnichannel experiences that deliver business outcomes.
Key Benefits:
Accelerate Time to Value
Onboard data and channels to deploy cross-channel campaigns quickly
Deliver real-time, 1:1 Personalization:
Build trusted, loyal and lasting customer relationships with every interaction
Succeed with Proven Guidance & Artificial Intelligence
Make smart, quick decisions with data-driven insights and analytics
Produce Measurable Results
Drive predictable and profitable growth throughout the customer cycle
Main Use Cases:
CUSTOMER SEGMENTATION AND TARGETING
SAP Emarsys enables marketing teams to segment their customer base using various criteria such as demographics, purchase behavior, engagement levels, and more. This segmentation allows for precise targeting of marketing campaigns, ensuring that the right message reaches the right audience, resulting in higher engagement and conversions.
PERSONALIZED MARKETING CAMPAIGNS
SAP Emarsys empowers marketers to create highly personalized marketing campaigns. Leveraging customer data and AI-driven insights, marketers can deliver personalized content, recommendations, and offers to individual customers. This level of personalization enhances customer experience, builds stronger relationships, and increases the likelihood of conversions.
MULTICHANNEL MARKETING AUTOMATION
SAP Emarsys facilitates the automation of marketing campaigns across multiple channels. Whether it's email, mobile, social media, or other digital channels, marketers can automate and streamline their marketing efforts. This automation ensures consistent messaging, saves valuable time of marketers, and enables them to engage with customers at the right time through the right channel.
BEHAVIORAL TRIGGERS AND CAMPAIGN ORCHESTRATION
SAP Emarsys allows marketers to set up behavioral triggers based on customer actions or events. For example, marketers can automatically send personalized emails to customers who abandon their carts or trigger follow-up messages after a purchase. This level of campaign orchestration based on customer behavior ensures timely and relevant communication.
CUSTOMER JOURNEY OPTIMIZATION
With SAP Emarsys, marketers can map and optimize the customer journey across various touchpoints. By understanding the different stages of the customer lifecycle, marketers can design and automate targeted campaigns to move customers smoothly through each stage. This optimization helps maximize customer engagement, loyalty, and retention.
ANALYTICS AND PERFORMANCE TRACKING
SAP Emarsys provides robust analytics and reporting capabilities. Marketers can track the performance of their campaigns, measure key marketing metrics, and gain insights into customer behavior and preferences. These analytics enable data-driven decision-making, optimization of marketing strategies, and measurement of the return on investment (ROI) of marketing initiatives.
INTEGRATION AND DATA CONNECTIVITY
SAP Emarsys integrates with any other system, such as CRM platforms, ERP, e-commerce or mobile apps, etc., allowing marketers to access and leverage data from multiple sources. This integration ensures a holistic view of the customer and enables seamless data exchange. Marketers can utilize this data to create more personalized and targeted campaigns.
Trust in NEORIS:
The partnership between SAP EMARSYS Customer Engagement and NEORIS brings together cutting-edge marketing automation technology and strategic consulting services. By leveraging the joint offering, businesses can transform their marketing efforts, deliver personalized customer experiences, and achieve tangible results. Empowering the organizations to stay ahead in the digital marketing landscape and drive business growth.